In a world with a gender pay gap of 23% (lower at 6% in New Zealand but still) and a known sexist at the helm of the biggest country (ahem Donald Trump), things can sound pretty grim. But the haters are gonna hate. Instead of sitting back and watching it happen, we need women supporting women more than ever. If those who care all do their bit, we're going to make a difference (doers are gonna do).
After Trump was elected, American comedian Chelsea Handler – an avid Hilary Clinton supporter – came out stating that women need to be supporting women more and lift each other up. "We can eliminate the competitiveness that has been imposed upon us because we are treated as a minority and have been taught to tackle, rather than climb," she said.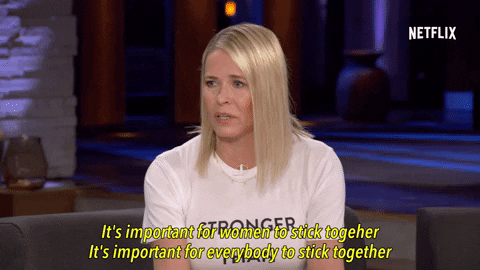 "It's time to get focused on what really matters," she wrote. "Find women that are different than you and figure out the things you have in common. We have a whole generation of girls who are looking at us to see how we treat each other. Let's show them what the power of being a woman really looks like. Let's open our arms to each other, and to them." #Goals
I'm lucky enough to have a career, which has been filled (and fueled) by amazing women who have helped me, including females bosses at two different jobs and a largely dominated female team across two different workplaces with a list of many gal pals who are so supportive. Though there are competitive moments, we all try and help each other get ahead.
I'm also incredibly lucky with the people I've met through this blog (shout out to the Workhers Auckland group woohoo!). But seriously, over the last few years I've come across so many like-minded kick ass women who want to get ahead in their careers – but aren't going to sacrifice others to get there. Instead, we're focusing on working together. It takes a village, right.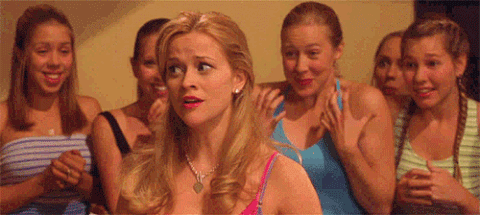 Most of us millennials also grew up with "girl power" as our life motto (thank you Spice Girls!), we saw Elle Woods in Legally Blonde get the dream job thanks to a recipe of hard work mixed in with the help and support of the gals (and guys) around her.
In today's world we've got great pop culture moments with the likes of Mad Max Fury Road (total girl crush on Charlize Theron) and Wonder Woman (omg another girl crush Gal Gadot – so much ass kicking!) and of course the Queen B herself (love you Bey). Plus we have some epic girl boss campaigns from brands also getting behind the movement such as the Always #LikeAGirl campaign and This Girl Can.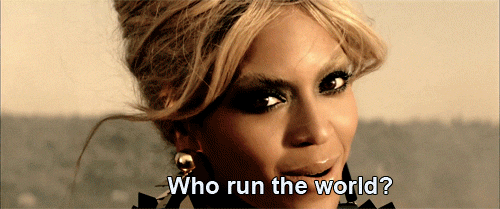 It might be sounding all sunshine and roses but I'm the first to admit there is still work to be done (a long road ahead in fact). A study by KPMG showed 67% of women reported they'd learned the most important lessons about leadership from other women; and 82% percent of professional working women believe access to and networking with female leaders will help them advance in their career. So hello female leaders, reach out and help a sista out!
Actress Jessica Chastain commented at the end of the Cannes Film Festival she found the representation of female characters in movies "disturbing". "This is the first time I've watched 20 films in 10 days, and I love movies and the one thing I really took away from this experience is how the world views women," she said.
"For the most part, I was surprised by the representation of female characters on screen in these films," she said. "I do hope that when we include more female storytellers, we will have more of the women that I recognize in my day-to-day life. Ones that are proactive, that have their own agencies. They just don't react to the men around them. They have their own point-of-view." IKR!
If you wanna be the best girl boss out there, then think about how you can help others. Where can you be a mentor more – why not take the new grad under your wing? Or can you reach out and find a mentor for yourself? Be open and encouraging (rather than defensive), negotiate your pay rise and help other gal pals do the same, and importantly, remember to celebrate the women doing great things around you.
For more tips, check out our article on being collaborative (not competitive) here.
Let's continue to champion the hard work of the generations before us (thank you Cleopatra, Katharine Hepburn and Kate Shepherd to name a few) plus carve the pathway for the future.